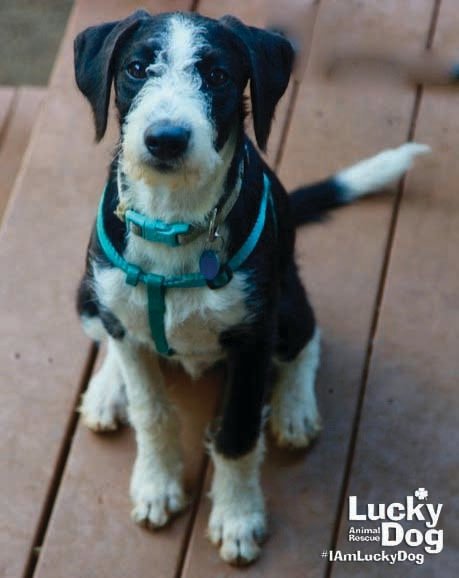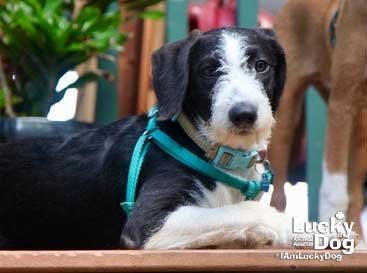 Adopted - Not Available
Name
Oreo
Type
Dog
Breed
Airedale Terrier
Gender
Male
Age
Baby
Color
Size
Medium
Status
adopted
Attributes
Spayed Neutered House Trained Declawed Special Needs Shots Current &nbsp
Environment
Children Dogs Cats &nbsp
OREO NEEDS A FOREVER HOME!!!!

Come meet OREO and other great adoptable dogs this Sunday (November 27th) from 12-3 pm at the Calverton PetSmart in Silver Spring (12020 Cherry Hill Rd, Silver Spring, MD 20904)!

Name: Oreo Best Guess for Breed: Airedale and foxhound mix

Best Guess for Age: 6 months as of 11/1/22 SEX: Male

Estimated Weight (puppies' weights change quickly!): 25 lbs as of 11/14/22

Gets Along With: Oreo is good with other dogs and has lived with cats in his Kauai foster home. We have not seen him with kids but he can be tested.

Currently Living at: DC area foster home.

All about Oreo: Oreo and his sister Betty White Paws were strays found in Waimea, on Kauai, when they were about three months old. They went to wonderful foster homes and have blossomed there! They both know how to sit and are intelligent, mellow, and loving. They both enjoy walks and have been doing well with leash training. They are both affectionate with their people once trust has been earned; Oreo especially enjoys a good snuggle!They're still puppies who are eager to trot through the world with confidence, thriving as well-loved dogs. They're ready to go their separate ways into their own DC-area homes with extra loving and patient humans who will help them explore the world at their pace (can you just imagine how different the smells in the DC area are from the smells on Kauai?!).Could you be the one to give Oreo the fresh start and love that he is seeking? In exchange, he promises adoring gazes and loyal companionship for all his days. Does that sound like a fair trade to you?
What My DC Area Foster Says About Me: We will update this once this pup has arrived in the DC area and spent some time in foster here!
Your new puppy will need to work on their house training and will also need to go to obedience school so they can grow into a well-socialized dog! TO ADOPT: The adoption fee for this dog is $425, which includes the cost of routine vetting and transport from the shelter. If you are interested in adopting, please complete the Adoption Questionnaire online bit.ly/adoptaluckydog

Lucky Dog Animal Rescue does our best to provide accurate information about the dogs we have for adoption. That said, we cannot make any guarantees about age, breed or temperament.

Thank you for contacting Lucky Dog Animal Rescue and helping to save a life! Please visit us online at www.luckydoganimalrescue.org .
BE A FOSTER!!! Fosters make it possible for Lucky Dog Animal Rescue to save and care for homeless and abandoned dogs! To learn about fostering, please contact [email protected]!
BE A SPONSOR!!!! Sponsors help Lucky Dog support the many dogs we save. To learn more about sponsorship, please contact [email protected] .